Electronic Gadgets Penetrate the Market this Holiday Season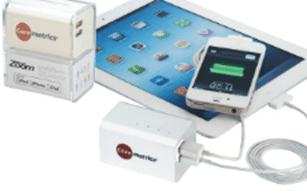 It's that time of year again and tech gadgets are becoming increasingly popular gifts. Consumers everywhere are running to the Malls and department stores to pick up gifts for their loved ones.
With new devices comes the hassle of keeping a full battery. With Leed's Zoom Energy Bar Pro, your devices are sure to stay charged at the most Crucial moments. This portable, rechargeable battery is perfect for holiday travels or day trips! With the Energy Bar Pro, your device will be charged in 4.5 hours, and will stay charged for over a month!
In addition to the Energy Bar, don't forget to stick this in your suitcase! The IFidelity Groove Bluetooth Speaker is also perfect for travels! This small, convenient speaker removes the hassle of long wires to ensure a stress- free listening experience!
You're not going to want to forget this holiday season, so make sure you take lots of pictures! The PhotoStar Digital photo frame is a great way to display your holiday fun, and save paper! The Large, widescreen photo frame also has backtrack sound capabilities to accompany the slideshow of your warm holiday season!