A New Year a New Calendar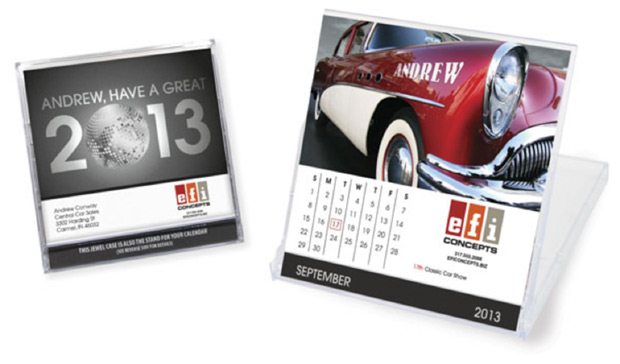 Calendar Facts:
A recent survey confirms that calendars have broad appeal.  With facts like these, using calendars as promotional products is always on our list of sustainable products.  92% of survey respondents would keep an advertising calendar* and 82% enjoy receiving calendars as complimentary gifts.  74% of respondents could remember the name of the company that gave them the calendar and 48% had a more favorable impression of the advertiser after receiving the calendar.  Best of all – 70% plan to do business with the company that gave them the calendar.
* A Study of Calendar Usage in U. S. Households (2010) and a Study of Calendar Usage in the Workplace (2011)
One of the  newest trends in calendars are CD Case Calendars  These unique small Desk Calendars are printed on a thick card stock and comes compete with a durable shatter proof plastic Jewel Case that makes for a beautiful presentation.   Using your list, we customize each calendar especially for the recipient. Their name will look as if it was uniquely crafted in to the image.  How special is that?
Here is a favorite of ours:
Personalized Jewel Case Calendar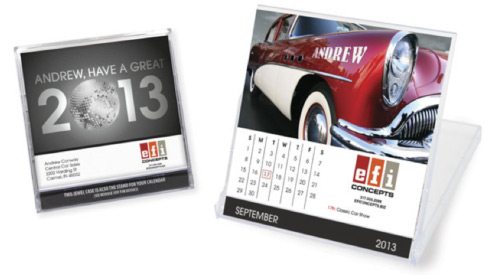 Product Features
Jewel Case Becomes The Calendar Stand
Eye-Catching Personalized Images
Logo/Imprint On Every Page
12 Months (additional months optional)
Personalized Cover with Stock Art Included
Pick Your Start Date
Highlight Special Dates/Events
Full-Color Double-Sided Digital Print on 12pt Card Stock
Sealed In Clear Cello Bag
Presentation/Shipping Box Available
Direct Mail Options Available